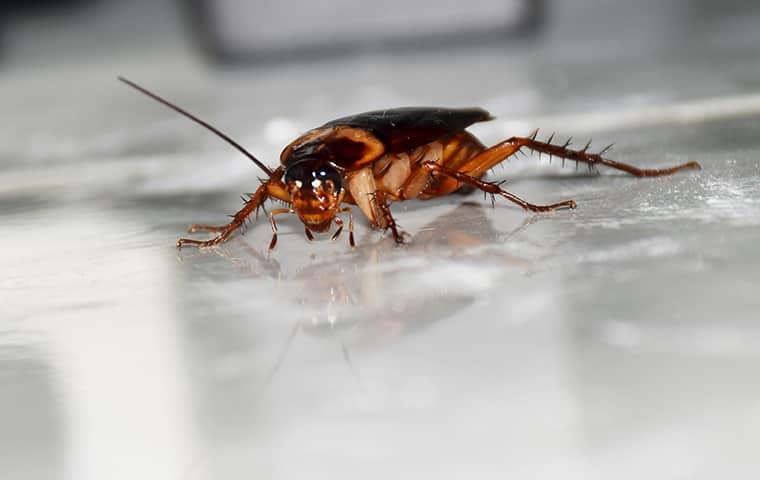 Just because summer is winding down, doesn't mean we don't have to deal with cockroaches. Cockroaches are looking for food, water, and shelter. These things can become less available outside as the seasons change. Inside a home, cockroaches have less competition for available food. And even the cleanest of homes can suffer from a cockroach infestation.

How can I keep roaches out of my home?
Clean:
Sweep or vacuum floors regularly to remove crumbs. If you eat on furniture (couch, bed, etc.), it is best to vacuum any crumbs that may have fallen.
Wipe off counters and tables to remove crumbs.
Do not store old newspapers or cardboard, cockroaches love to hide in these.
Water:
Cockroaches are attracted to moist places so you should repair leaky faucets and pipes. Make sure there are no wet areas beneath kitchen or bathroom sinks.
Avoid leaving wet towels or clothing lying around.
Seal:
Caulk or seal gaps or cracks in foundations, around drains, etc. to reduce the chances of roaches getting in. (This won't prevent flying roaches from getting in.)
Use weather stripping around exterior windows and doors.
Install door sweeps and replace damaged screens.
Make sure indoor and outdoor trashcans are tightly sealed.
Food:
Do not leave open food out.
Store food in airtight containers or in the fridge or freezer, including pet food.

If your home is inviting for cockroaches and they can readily find a food source, they will come in and set up residence. These are not good house guests because they spread bacteria and disease. They can also aggravate allergies and asthma. DIY methods of cockroach removal can be dangerous. Cockroaches can track poisons across counters or into food sources. And children or pets could be exposed to these poisons.

The best and safest way to get rid of cockroaches is to enlist the help of a qualified professional. At Mid America Pest Control, our pest technicians are dedicated to using innovative and eco-friendly solutions to remove cockroaches and any other invading pests and to prevent their return.

We're so confident about our services, we offer a money-back guarantee. If you want to find out more about eliminating cockroaches from your Greater Tulsa home, contact us at Mid America Pest Control and schedule your free 58-Point Pest Analysis.