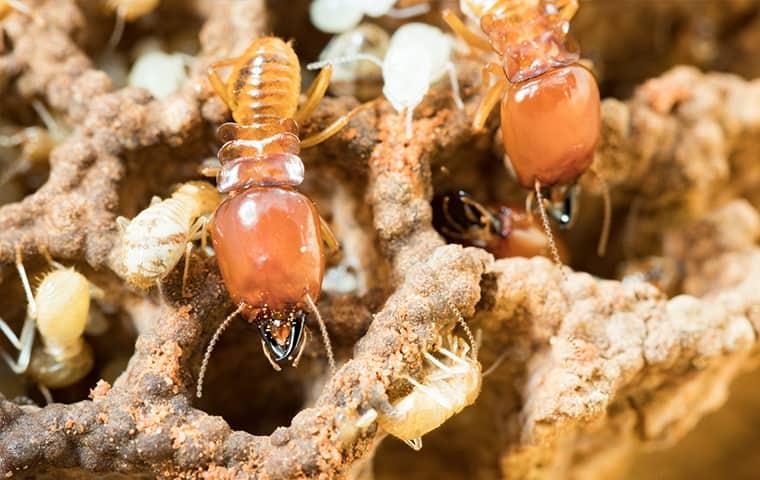 People build houses across the world in dangerous locations. Just look at Hawaii. Even if every sign points to it being safe, it takes bravery to construct your home next to a volcano. But, regardless of where you build it, there is the knowledge that something might threaten it one day such as a tornado, flooding, or even termites. We know that living near termites may not raise as much concern as living next to a volcano, but we assure you, the threat that termites pose to the structure is serious.
Why Termites Are Reaching Peak Activity For The Summer
Because termites are considered warm weather pests, it is natural for them to become very active during the summer months. Termite swarming season has already passed, and new colonies across our beautiful state are now springing up to threaten existing homes. Regardless of whether or not your home has a fully mature colony invading its walls, or a new colony just starting to nibble, now is the time your house is most at risk.
Different Signs Of Termite Activity
Spotting termites in and around your home can be a difficult task, mainly because termites are known for their ability to stay out of sight. If outside, they are most likely underground or tunneling into your home, and if inside, they spend almost every moment of their working day eating away at the structural wood. For this reason, you have to look for the small, subtle signs they leave behind such as mud tubes that run up your home's exterior foundation or flying termite swarmers during swarming season.

The only time you will begin to see noticeable signs of termite activity is when a fully mature colony has been able to eat away for a few years secretly. At this point you may start noticing floorboards squeaking, walls buckling, wallpaper bubbling, and other significant structural damages around your home. We hope that this never becomes the case for you.
Why Call Mid America ASAP To Find Out If You Have Termites
Whether you have seen some of the signs listed above, or want to know for sure your home is clear of termites, we would like to offer our assistance. Here at Mid America, we not only have quality termite inspections, but also effective termite treatments designed to get your home termite free and keep it that way. To find the solutions that will work best for your home, contact us today. Let us get your home the protection it needs to keep your peace of mind.